DÉ CEADAOIN 17 SAMHAIN
Wednesday 17 November
7.00pm & 8.00pm
TWO ONLINE FILMS
DRITHLIÚ AISTEACH
FILÍOCHT GEORG TRAKL
AN UNCANNY GLITTER: THE POETRY OF GEORG TRAKL
Duine de na filí liriceacha ba thábhachtaí san aois seo caite ab ea Georg Trakl. Tá a chuid filíochta ar maos leis an mbás catastrófach, íomhánna cogaidh, ionfhabhtú, plá, seachmall – ach is aisteach cé chomh hálainn is atá páirc an áir aige, dathanna agus comharthaí siombalacha, fíoracha aislingeacha ag teacht is ag imeacht ina n-aingil aeracha. Duine d'fhilí cosmacha na Gearmáinise, ar aon chéim le Rilke.
AN UNCANNY GLITTER
THE POETRY OF GEORG TRAKL
Online Film 7.00pm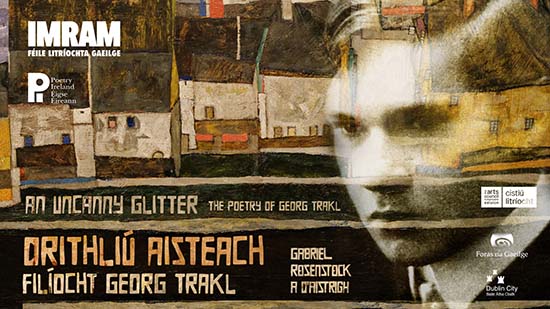 Georg Trakl is one of the most important lyric poets of the twentieth century. His apocalyptic poetry is awash with images of death, war, infection – but are also uncannily beautiful in their use of symbolic colours and signs, and in the appearance and vanishing of dreamlike figures and strange angels. Of his work, Herbert Lindenberger commented 'he lofty stance, the cosmic range, and the haunting music of Trakl's poetry now mark him, with Rilke, as perhaps the last great representative of what could be called the sublime tradition in German.'
An Uncanny Glitter features Irish language versions of Trakl's work by Gabriel Rosenstock, accompanied by visual interpretations of the poems by Margaret Lonergan and a haunting soundtrack composed by Seán Mac Erlaine.
In association with Poetry Ireland

CRAORAG
CRIMSON: AN IRISH TRAKL
Online Film 8.00pm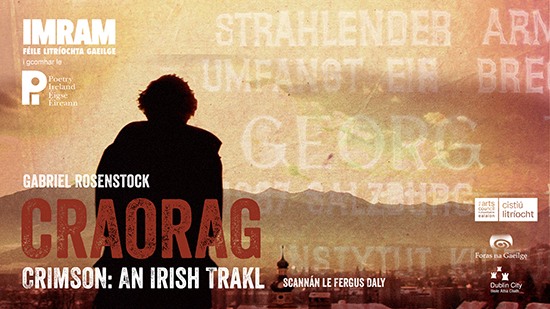 IMRAM is also delighted to host the début broadcast of Craorag, directed by Fergus Daly. Filmed in the 1990s, this beautiful lyrical documentary follows Gabriel Rosenstock as he travels across a snowy Austria to Salzburg, on a journey to find the soul of Trakl. In Irish with English subtitles.
In association with Poetry Ireland

Cead isteach: Saor in aisce
Artists In This Event Include: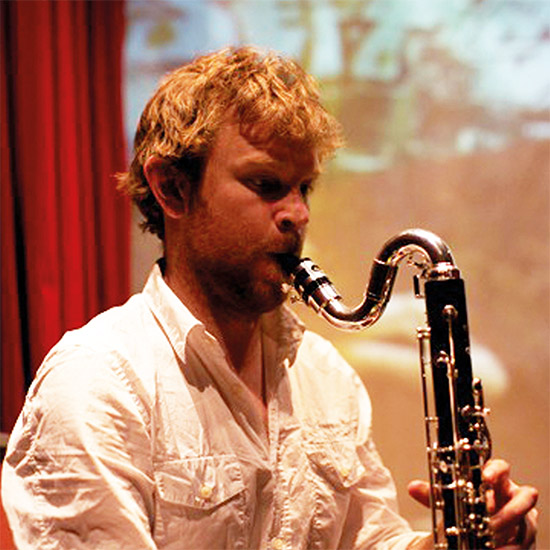 Seán Mac Erlaine
Drithliú Aisteach, 17 Samhain
Gabriel Rosenstock
Drithliú Aisteach, 17 Samhain